Al Munawar Hotel Lahore
---
Omar Market, Mcleod Road, Lahore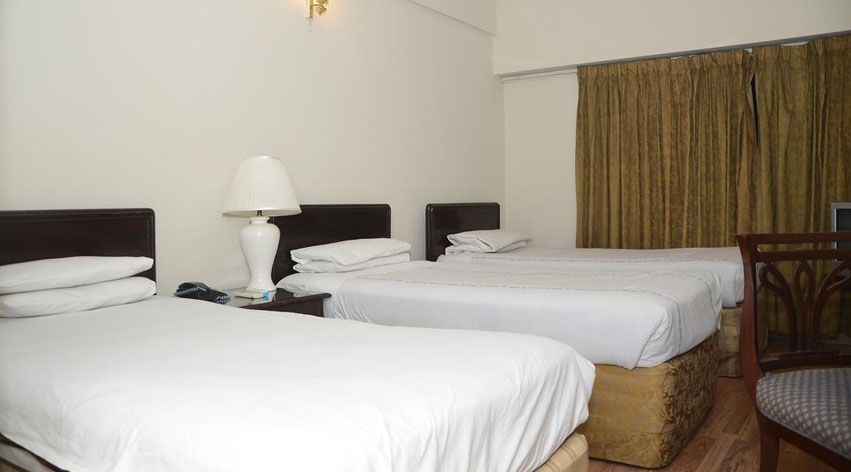 ---
Description - Al Munawar Hotel Lahore
---
Al Munawar Hotel Lahore is located near Lahore Railway Station in Omar Market at Mcleod Road Lahore.
It is a budget hotel with modest furnishing and basic standard for lodging and boarding. If at all one wants to compare the standard, it may be equivalent of just one star hotel.
The hotel targets the low income travelers, who come from other parts of the country and just want to stay for a day or two.
---
Room Types & Rates - Al Munawar Hotel Lahore
---
The Hotel offers only basic standard rooms with single and double beds.
The price may range from Rs: 2000 – Rs: 3000/- Per night / day

(Please check with the hotel directly for latest rates updates)
---
Facilities & Amenities - Al Munawar Hotel Lahore
---
Al Munawar Hotel Lahore is modestly furnished and provides the basic facilities that includes:
Air Conditioned Rooms
Hot & cold water during Winter and Summer
Breakfast- either from hotel Kitchen or from outside
Facsimile (Fax)
And internet Wifi
---
Nearby Attractions
---
Al Munawar Hotel Lahore is located in the downtown. You can easily access several areas in the downtown areas.
Lahore Railway station is the nearest landmark about 5-10 minutes drive away from the Al Munawar Hotel Lahore.
The airport is far off about 60 – 80 minutes drive away.
In case, the travelers want to visit the Lahore downtown famous places, it can also be reached in about 20-30 minutes drive depending upon the traffic clogging.
In the downtown Lahore, one of the famous places is the Lahore Food Street, near the Fort Road. You will find variety of food outlets. There is open to sky seating arrangements as well as inside the restaurants.
Besides you can also visit Lahore Fort and Badshahi Mosque once you are at Food Street, which are just at walking distance.
The uptown Lahore is somewhat farther from this place, but it can be reached in about 50-80 minutes drive. The famous Liberty market & MM Alam Road in Gulberg are about 60 minutes drive.
In these two markets all local and international brands can be found for those who love shopping and have come from other towns of Pakistan.
All local and international brands in clothing and accessories are available in uptown Lahore. All local and international food chains like McDonalds', KFC, Pizza Hut and many more now scattered all over Lahore.
---
Anything More To Know
---
The visitors to the hotel should not raise expectations high. Those who just come for some business trip surrounding the Lahore downtown can be the most suitable visitors. They just usually need a place to stay for a night or two to complete their work.
However, despite being a budget hotel, it still provides you some basic comfortable stay.
---
Booking & Reservation - Al Munawar Hotel Lahore
---
You can check with the Al Munawar Hotel Lahore for the direct booking and reservation of the room in advance.
---
Taxes, Terms & Conditions
---
Taxes are estimated to be around 16% of the room rates.

The hotel may require the guest legal ID card to confirm the booking.

Only Cash is accepted.
Giving tips to the waiters are the normal culture in the hotel as well as in the city. You should also take it into account in your travel budgets.
---
Contact Info
---
Address: Omar Market, Mcleod Road, Near Railway Station, Lahore
Tel: +92-42-37650502, 37663654
Fax +92-42-37665953
---
You may also check out more variety of hotels in Lahore which can suit your requirements better. You can book the hotel either through the booking link provided or directly contacting the respective hotel.

---