Six Sigma Books
Get to Know More with Six Sigma Books

All about Six Sigma books and related books which also include topics like BPM, BPR, BPI, TQM, Kaizen, 5S, ISO, Quality Awards, BSC, and more...
What makes us what we are. Most of the time the single most factor for our learning is just 'books'. Even if we do our formal degrees, courses and trainings, what we are doing is basically read more books or the printed words and absorb more in our brains and keep practicing what we just read. 
Therefore the primary source of our learning is always the 'books'. 
We are bringing to you some of the well researched, reviewed and recommended Six Sigma books.
---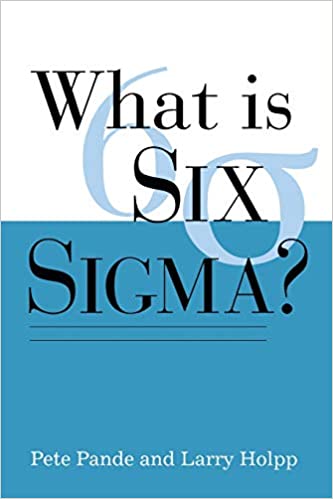 What is Six Sigma
By Pete Pande & Larry Holpp
Price: USD 14.28
This book is one the simplest books on Six Sigma. It has just 85 pages in it. If you are just starting out, it is a must-read for you. It provides you the simple overview of what 'Six Sigma' is all about. It explains the basic formula of Six Sigma based on the famous DMAIC methodology. But it does not delve deeper. It is just for those beginners as well as the senior management people who want to understand about the Six Sigma and how it works.
---
What is Lean Six Sigma
By Michael George, David Rowlands, & Bill Kastle
Price: USD 13.95
What is Lean Six Sigma is a simple to understand book for beginners. It is just 90 pages book. It provides you with the overview of what is 'lean'. It has combined the science of Six Sigma with Lean management. The result is to improve the speed of your business processes.
The above two selected books in the Six Sigma Books Collection are the master pieces to understand the basics of Six Sigma.
---
Easy Six Sigma Basics
By Zeerik Ahmad
Price: USD 4.99
If you have just 50 minutes, you can know the basics of Six Sigma in an easy language with simple flow and no complex details. This book may prove to be your pocket guide and can help you wet your feet enough to know the water temperature. If you really feel comfortable, then you can certainly delve further deeper to get to know how Six Sigma can be applied in any industry and in any work function. It can help you save money and improve the process speed and delivery times. And this leads to the eventual increased customer satisfaction and more revenues for the company.
---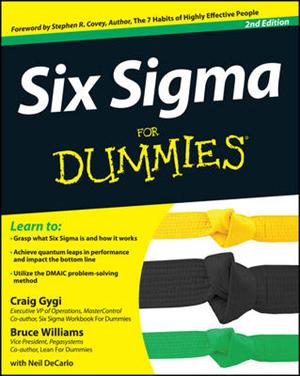 Six Sigma for Dummies
By Craig Gygi, Neil DeCarlo, and Bruce Williams

Price: USD 16.57
One of the favorite Six Sigma Books Collection
If you are looking for Six Sigma Books, the Dummies series should be your first choice. They provide simplicity and depth at the same time.
The fast and easy way to understand and implement Six Sigma The world's largest and most profitable companies including the likes of GE, Bank of America, Honeywell, DuPont, Samsung, Starwood Hotels, Bechtel, and Motorola have used Six Sigma to achieve breathtaking improvements in business performance, in everything from products to processes to complex systems and even in work environments.

Over the past decade, over $100 billion in bottom-line performance has been achieved through corporate Six Sigma programs. Yet, despite its astounding effectiveness, few outside of the community of Six Sigma practitioners know what Six Sigma is all about.
With this book, Six Sigma is revealed to everyone. You might be in a company that's already implemented Six Sigma, or your organization may be considering it. You may be a student who wants to learn how it works, or you might be a seasoned business professional who needs to get up to speed.
In any case, this updated edition of Six Sigma For Dummies is the most straightforward, non-intimidating guide on the market. New and updated material, including real-world examples.
What Six Sigma is all about and how it works.
The benefits of Six Sigma in organizations and businesses.
The powerful "DMAIC" problem-solving roadmap.
Yellow, Green and Black how the Six Sigma "belt" system works.
How to select and utilize the right tools and technologies.
Speaking the language of Six Sigma; knowing the roles and responsibilities; and mastering the statistics skills and analytical methods Six Sigma For Dummies will become everyone's No. 1 resource for discovering and mastering the world's most famous and powerful improvement tool.
Stephen Covey is spot-on when he says, "Six Sigma For Dummies is a book to be read by everyone."
---
Lean Six Sigma for Service
By Michael L. George
Price: USD 44.17
Special Collection in Six Sigma Books
How to Use Lean Speed and Six Sigma Quality to Improve Services and Transactions 

"How do I apply Lean Six Sigma in my service organization?"

This is a question many executives and managers are asking. With all the emphasis on using Lean Six Sigma in manufacturing environments, the need for a clear methodology for implementing these major quality improvement initiatives in service functions has been mainly overlooked - until now.
"Lean Six Sigma for Service" is one of the selected Six Sigma books that provides a service-based approach, explaining how companies of all types can cost-effectively translate manufacturing-oriented Lean Six Sigma tools into the service delivery process.
Six Sigma expert Michael George reveals how easy it is to apply relatively simple statistical and Lean tools that will reduce costs and achieve greater speed in service processes. It's no secret that service functions have a harder time applying Lean and Six Sigma principles. The manufacturing roots of these initiatives have made it unclear how to apply these tools to services; this book effortlessly makes that translation.
Here, for the first time, you'll read about how classic Lean tools such as "Pull systems" and "setup reduction" are being used in procurement, call centers, surgical suites, government offices, R&D, and much more. You'll see why services are full of waste--and ripe for the benefits of Lean Six Sigma.
This book has been carefully selected in our Six Sigma Books Collection series that provides real-world examples from situations where the critical determinants of quality and speed are the flow of information and the interaction between people. The numerous case studies demonstrate how Lean Six Sigma can be used in service organizations just as effectively as in manufacturing - and with even faster results. You'll discover how to: integrate Lean and Six Sigma and apply them side by side; become a customer-centered organization; gain control over process complexity Improve response time on signature services; apply value-based management to project selection; clean up your workspace; and develop supplier relationships.
For guidance in deploying Lean Six Sigma in service organizations, reducing lead times, streamlining processes, and holding down costs, "Lean Six Sigma for Services" is the most complete, authoritative guide you can own. "Lockheed Martin recognized that our business support processes have as much opportunity for improvement as our design and build areas. By applying Lean process speed and Six Sigma quality tools to marketing, legal, contract administration, procurement, etc. we have created a competitive advantage...
The lessons learned and practical case studies contained in "Lean Six Sigma for Service" provide a road map which can create great value for customers, employees and shareholders." - Mike Joyce, Vice President, Lockheed Martin. For operational excellence deploy Lean Six Sigma in your service organization.
Would you like to: reduce your company's service costs by 30 to 60 percent? Improve service delivery time by 50 percent? Expand capacity by 20 percent - without adding staff? If you answered yes - and who wouldn't - then this is the book for you. "Lean Six Sigma for Services" reveals how to bring the miracle of Lean Six Sigma improvement out of manufacturing and into service functions.
Michael George describes the basic elements of successful deployment, including insights from corporate leaders who have already "walked the talk" to accelerate your own journey. Filled with case studies detailing dramatic service improvements in organizations from Lockheed Martin to Stanford University Hospital, this bottom-line book provides executives and managers with the knowledge necessary to blend Lean and Six Sigma to optimize services.
You'll see how Lean Six Sigma can cut costs by reducing complexity; how to utilize its tools to provide better quality service; and how you can use shareholder value to drive project selection - without needing an MBA.
Out of many six sigma books, this single book on Lean Six Sigma will do full justice.
---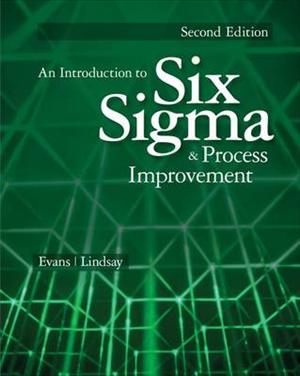 An Introduction to Six Sigma and Process Improvement
By James R. Evans and William M. Lindsay
Price: USD 42.97
Another Six Sigma Books Collection - A bit advance level.
Find out why many businesses preferentially hire Six Sigma trained candidates. AN INTRODUCTION TO SIX SIGMA AND PROCESS IMPROVEMENT, 2e shows you the essence and basics of Six Sigma, as well as how Six Sigma has brought a renewed interest in the principles of total quality to cutting-edge businesses. Six Sigma has taken the corporate world by storm. Find out how you can use it to improve your work performance and your personal marketability with AN INTRODUCTION TO SIX SIGMA AND PROCESS IMPROVEMENT.

---
Lean & Lean Six Sigma
By Peter Oliver
Price: USD 5.53 - 15.58
Six Sigma Books Collection With Easy Understanding
This book is just about one hour read. It provides you with quick facts and understanding that how lean works and how Lean Six Sigma works. 
Both used to be separate disciplines and now have been merged into one in order to get the best results.
Lean focusses on removing the waste and Six Sigma focuses on removing the variation and defects. When you combine both, you achieve speediest defect free outputs.
---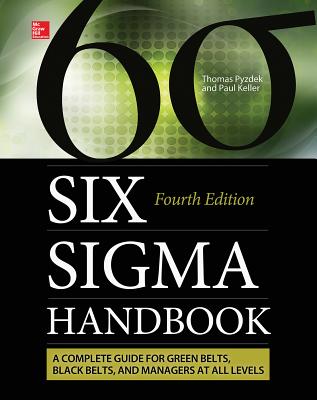 Six sigma Handbook
by Thomas Pyzdek, Paul A Keller
Price: USD 6.95 - 20.21
Six Sigma Books Collection with comprehensive mastery.
This is the fourth edition of the book. It provides you the comprehensive material in theory as well as in practice about the Six Sigma and how to apply it efficiently and effectively in any company of any size. 
This book is an important tool for Six Sigma certified belt practitioners. This will always serve as reference guide to help you implement successful Six Sigma projects in any company.
---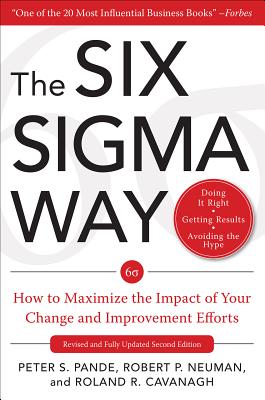 Six sigma Way
by Peter Pande, Robert Neuman, Roland Cavanagh
Price: USD 13.13 - 34.98
The Definitive Work on Six Sigma-Revised and Fully Updated Upon its publication in 2000, The Six Sigma Way was among the very first books to clearly explain the impressive benefits of Six Sigma's improvement-driven and customer-centric approach to business leaders and managers.
In short, this book changed the world of business and organization improvement forever. Now, this author dream team has revisited the subject to bring you fully up to date about how Six Sigma has been used-for better and for worse-during the past 14 years.
This new edition of The Six Sigma Way retains everything from the original classic- what Six Sigma is, how it works, and how to adapt it to your particular needs-while providing valuable new sections on lessons learned and setting the record straight regarding myths and misunderstandings perpetuated over the years.
This all-in-one guide provides: Practical Six Sigma implementation guidelines anyone can understand.
---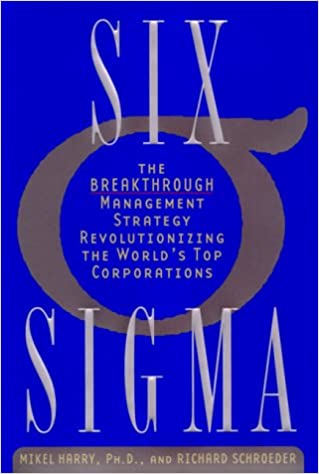 Six sigma
by Mikel J Harry, Ph.D., Richard Schroeder, Don R Linsenmann
Price: USD 0.99 - 5.96
Two founders of Six Sigma profile their extraordinary, powerful breakthrough management tool that promises increased market share, cost reductions, and dramatic improvements in bottom-line profitability for companies of any size. The darling of Wall Street, it has become the mantra of Fortune 500 boardrooms around the world because it works.
Most companies operate at a three- to four-sigma level, where the cost of defects is roughly 20 to 30 percent of revenues. By approaching Six Sigma--fewer than one defect per 3.4 million opportunities--the cost of quality drops to less than 1 percent of sales.
Six Sigma should be of paramount importance to every forward-thinking executive and manager determined to make their company world-class in their industry.

---
We will keep on adding more Six Sigma books. Stay Tuned!