Herfa Inn Lahore
---
Near China Chowk & Shadman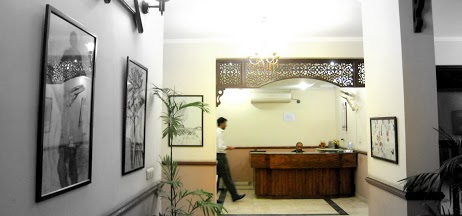 Herfa Inn Lahore is a 2 star hotel hotel. It is located near China Chowk which is near Shadman Market as well as the Mall Road.
It is a nicely kept and well decorated small hotel with medium range room rates and with good value for money. It is located in a residential lane surrounded by other private houses. It provides a very homely feeling to stay in. It is a good choice for those who come for a family stay. It also suits to business people as well who come for any official trip to Lahore.
Herfa Inn Lahore Room Rates 

---
Herfa Inn Lahore offers very moderately priced room rates:
Single Rs:4500
Double Rs:5500
Triple Rs:6500
(Please check the latest rate updates directly from the hotel)
Facilities & Amenities - Herfa Inn Lahore
---
Complimentary breakfast - on advance bookings only
Airport pick and drop for Rs 800
Rent a car arrangements
Group tour arrangements
Master Rooms
Master bedrooms are fitted with a queen mattress and can comfortably accommodate two people or a small family as we do provide additional mattresses.
Double Bed Rooms
These rooms are furnished with two single beds and are a good choice for staying with a colleague or friend.
Triple Deluxe Rooms
For travelers who require a lot more space, these rooms are fitted with one single bed and one queen bed plus have space left over for additional mattresses.
All the  rooms are equipped with an AC, TV and mini fridge. 
Rs 400 per mattress will be charged for additional guests.
Regular house keeping facility
24hr Generator backup.
Free Wifi. Keep in touch via email, Facebook, etc. or just surf the web.
Daily cleaning (included in your package)
Laundry service
Nearby Attractions Around Around Herfa Inn Lahore
---
Herfa Inn Lahore is centrally located near the famous Mall Road, Lahore.
There are many attractions which can be found nearby. 
For business travelers, major head offices for conglomerates, banks, airlines and many other companies are also located nearby on the Mall Road or in downtown Lahore.
The Herfa Inn Lahore is just a few yards away from the Lahore Zoo, Lawrence Gardens, Race Course Park and Shadman Market.
The famous Lawrence Gardens is within a walking distance. It was once built during the British Raj. It now also houses Jinnah Library which is very aesthetically decorated and now contains thousands of books in every subject.
People visit this park for their morning walks and evening walks. It is a lush green park with more than hundred years old tress and greenery all around.
It is a marvelous treat for all those staying in Herfa Inn Lahore to take advantage of Lawrence Gardens.
The famous Race Course Park is also nearby. It is a spacious and very happening place, where people from all walks of life come to visit. The park hosts various festivals and events from time time. It includes, Polo  matches, cricket, as well as spring flower festivals every year.
Shopping
For those who are interested in shopping, there are two main places. Either you can visit the Mall Road which is about 10 minutes drive away or you can visit Shadman Market which is just a 5 minutes drive away. Both offer all kinds of merchandise from cloths to electronics and household items as well as handicrafts for those who come from other cities and other foreign countries.
Transport
The public and private transport is easily available from many points from near Herfa Inn. You can access any place within Lahore in about 30 - 45 minutes of drive time.
Lahore Railway Station is about 30 minutes drive and almost same for Lahore Airport.
Contact Info - Herfa Inn Lahore
---
23/3 Race Course Road, Lahore
Tel: 042 36376101-2
Fax: 042 36309388 
E: bookings@herfainn.com
You also visit Herfa Inn Lahore website