Sunfort Hotel Lahore
---
Near Liberty Market Lahore
Description - Sunfort Hotel Lahore
---
The Sunfort Hotel Lahore is a 3-star hotel located in Gulberg area of Lahore. The hotel is close to major business, shopping and dining districts.
The Hotel has 75 well furnished rooms and is rendering excellent environment with well decor luxurious rooms.
The hotel attracts all kinds of guests including the caproate sector as well as families from all parts of the country and abroad. 
The hotel provides good quality ambiance and the customer services.
It provides many customers' testimonials with positive reviews who have experienced the hotel first hand.
Room Types & Rates - Sunfort Hotel Lahore
---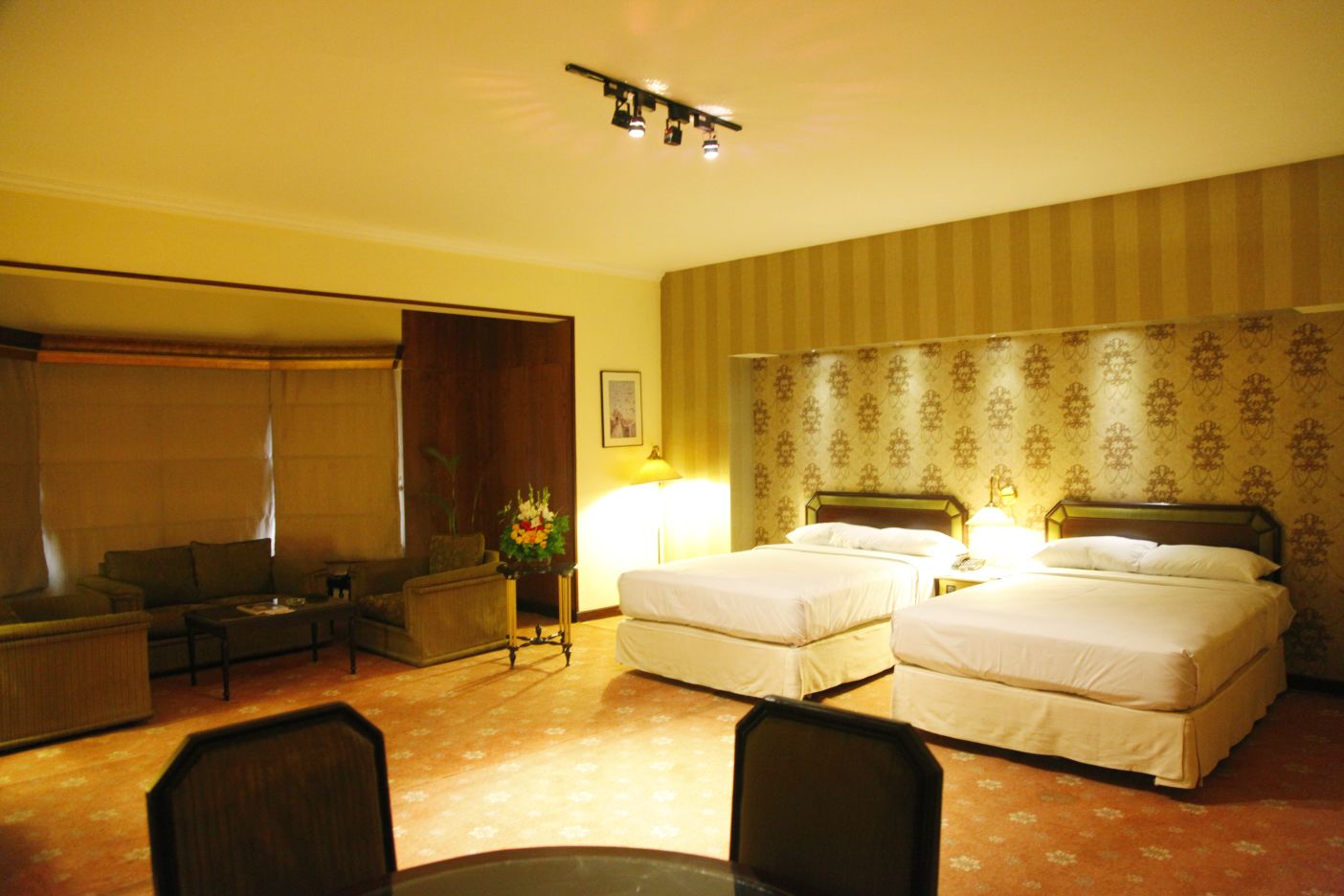 Standard Room
Single: PKR 15000
Double: PKR 17000
Deluxe Room
Single: PKR 18000
Double: PKR 20000
Junior Suite
Single: PKR 25000
Double: PKR 27000
Executive Suite
Single: PKR 30000
Double: PKR 32000
Extra Mattress
PKR 2000
(For latest rate updates, you may check directly with the Sunfort Hotel Lahore)
Facilities & Amenities - Sunfort Hotel Lahore
---
Sunfort Hotel Lahore provides all the standard good quality facilities & amenities:

Room Service - Around the Clock
Coffee Shop - Around the Clock
Breakfast, Lunch, Dinner are served
All rooms have Mini Bar
Valet parking service available
LED with in-house movies
Wi-Fi in entire hotel
Safe deposit boxes
Full services of Business Centre
Rent a Car Service
Same day Laundry and Valet Service
Shuttle Service for Airport / Daewoo
Nationwide and International direct dialing
Satellite channels and Radio.
Shuttle Service for Airport pick-up & drop is available on request.
Parking facility for upto 300 Cars.
Compliment News papers and shoe shine service.
Concierge service.
Baby-sitting available.
Driver's / Servant's accommodation. 
Gracious meeting and Banquet space.
Banquet Hall & Meeting Rooms
The hotel offers 4 banquet hall and meeting rooms (combined) that invite various kinds of services.
Banquet Halls
Sunfort Hotel Lahore is also offering in and out door Banquet services, which includes Meetings, Conferences, Seminars, Exhibitions, Get-togethers and matrimonial functions. These are equipped with the state-of-the-art conference facilities including Multimedia, Over Head Projector, Flip Chart, White Board, 
Pad & Pencils, Markers etc.
Corporate companies can book meeting rooms for their conferences and staff trainings. The hotel provides all the multimedia facilities and flip charts to help conduct day long or week long staff trainings. Normally PKR 1600 per person is charged. and PKR 5000 for the multimedia support.
Families can book the banquet halls for wedding ceremonies, birthday parties and any family functions. The hotel offers variety of choice in the menu.
Watch The Video - Sunfort Hotel Lahroe
Nearby Attractions  Around Sunfort Hotel Lahore
---
Sunfort Hotel Lahore is located in one of the most interesting places in Lahore especially for those who are fond of shopping in Lahore. It is just behind the famous Liberty Market in Lahore. 
Within a walking distance of about 5 minutes, you can find the variety of shops and outlets offering some of the diverse merchandize including clothes, shoes, household accessories, books, cosmetics and much more. Liberty market is situated in the center of Guldberg Lahore. 
Gaddafi stadium Lahore is just 5 minutes drive away.
The famous MM Alam Road is also just 10 minutes drive away. That offers variety of designers local and foreign brands to shop around. In addition you can find all kinds of eateries and restaurants offering all kinds of cuisine including desi, Chinese, fast food and continental.
Lahore Airport is about 40 minutes of drive time.
Lahore Railway Station is about 40 minutes drive time.
Lahore downtown is also about 40 minutes drive time
All other areas in Lahore can also be reached within 30 - 60 minutes drive time.
Transport
Public and private transport are easily available from the hotel.
Private taxis may be bit expensive ranging from PKR 500 to 2000
You can use the public transport which can only cost you around PKR 50 - 100
Anything More To Know
---
Sunfort Hotel Lahore has good room sizes ranging from 646 to 754 sq. ft. Most of the rooms are located on the 3rd and 4th floor of the hotel. The room view show the inner courtyard of the hotel
Dewan-e-Khas and Board Rooms are designed in a way to meet the modern needs of all esteemed organizations. Sunfort is also known for its excellent food quality. The main restaurant "The Coffee Shop" is one of the town's best dining spot, which offers innovative choices in Cuisine, provides scrumptious food to guests in a very hospitable way.
Coffee Shop
Exquisite Pakistani, Chinese and Continental delicacies are the specialty of The Coffee Shop. The secret of its superb cooking is an unusual combination of rare recipes executed with a deft and personal touch.
So, whether your goal is business, relaxation or a blend of both, Sunfort Hotel can serve you on all fronts. 
The Sunfort Hotel Lahore is owned and operated by Palace Enterprises Pvt. Ltd.
It has great importance due to its prime location. The hotel was constructed on seven canals and fifteen marlas in a way to meet the needs of modern times.
The Hotel commenced its business on May 09, 1996 and is maintaining its entity with success in the hospitality industry.
The hotel has also earned some awards in the hospitality sector that shows and proves that it has been committed to provide good services to its target market and customers.
People Behind The Business
Mian Shamim Haider - The Board Director
Mian Muhammad Riaz - Board Member
Aizaz Mansoor - Director
Sheikh Muhammad Amin - CEO
Sheikh Dawood Ashraf - Director
Shahid Manzoor - General Manager
Taxes, terms & Conditions
---
The above room rates do not include taxes. Taxes are estimated to be around 16% of the room rates.
The hotel may require the guest legal ID card to confirm the booking.

Cash and credit cards are accepted.
Giving tips to the waiters are the normal culture in the hotel as well as in the city. You should also take it into account in your travel budgets.
Contact Info
---
72-D/1, Liberty Commercial Zone, Gulberg-III, Lahore, Pakistan.

Tel: +92 42 576 3810 - 19  Fax: +92 42 575 4277
E-mail: info@sunforthotel.com
For more information, you can visit Sunfort Hotel Lahore website
---
You can check out more hotels in Lahore by clicking on the link
---