Nickie And Nina
---
Fashion Designers in Lahore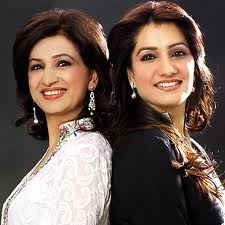 ---
Nickie And Nina - Two Sisters
---
Fashion Designers Nickie and Nina are two sisters based in Lahore.
They work with a variety of fabrics and combine two or more textures in a single garment with an innovative touch.
Similarly, they mix bright and subtle hues in a unique fusion of colour displaying a fine-tuned aesthetic sense.
Wasli, karchob, zardozi, silk threads, precious and semi-precious stones are used in fascinating combinations to create unusual and distinctive garments.
---
How They Started ...
---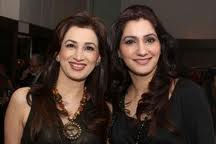 They started their luxury brand in the year 2000 with the critically acclaimed millennium show in Lahore, Pakistan.  That success brought with it an unprecedented amount of glitz and glamour.
That year, Nickie and Nina were invited to attend the MTV Awards in Delhi  to showcase at a group under the aegis of Fashion TV International, in Bombay.

They held exclusive fashion shows in 2001, 2002 and 2003 in Pakistan and abroad. Their new collections were showcased in Lahore, Chicago, Orlando and Washington, where their collections were viewed by fashion connoisseurs and heads of state alike.
---
The Story of Growth - For Nickie And Nina
---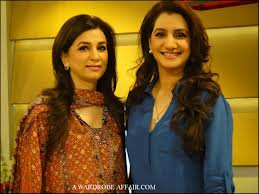 In the year 2004, they received their first nomination for the prestigious Pakistani Lux Style Awards, held in Dubai, in the best Bridal wear/couture category. Dubai.
In February of 2004 they were invited to show at the Pakistani High Commission in London and to exhibit in New York.
In 2004, Nickie and Nina opened their ready to wear Flagship store in their home city, Lahore, in Pakistan, in the high profile shopping street, M.M.Alam Road in Gulberg.
---
The Unstoppable Duo!
---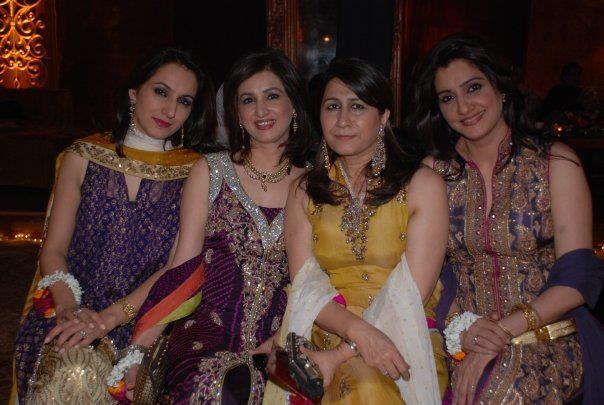 The following year, in 2005 they showcased at the Presidency in Pakistan, an event organized for George Bush's visit to the country. They also held their first exhibition at Designer's Lounge in Dubai and in Houston.
In 2006, Nickie & Nina were invited to show their collection to the Saudi Arabian royal family in Jeddah. Following the success of their first exhibitions, Nickie and Nina also returned to exhibit in Dubai and Chicago. 
In 2006, they opened their second outlet in Karachi, Pakistan's high end retail venue, Zamzama.
Nickie & Nina showed at multiple international fashion destinations including New York, LA, Chicago, the UK, Bahrain and in Dubai.  The brand label also held a charity fashion show in Pennsylvania, USA.
The story of growth is filled with inspiration and motivation, not only for the fashion industry of Pakistan but making Pakistan become visible in the international fashion landscape.
Pakistan definitely needs not one but many more such stories to motivate the next generation of budding fashion designers in Pakistan.
And of course there are more such fashion industry stories including the Story of Sana Safinaz, Khaadi, Maria B, Kamiar Rokni and many more.
---
Contact Info
---
Nickie and Nina are currently available In Lahore at their MM Alam Outlet and at The Boulevard 10 Q and in Karachi at the Nickie & Nina Zamzama Outlet.
Their studio is available to contact by appointment only