Gulberg Residencia Islamabad
---
Gulberg Greens & Gulberg Residencia
---
Gulberg Residencia Islamabad Location
---
Gulberg Residencia Islamabad is a housing society that is located within the Gulberg Greens in Islamabad.

It is located on the Islamabad Expressway about 15 kilometers from the Zero Point. When the roads are clear it is about 25 minutes' drive. But when there is some congestion on the peak hours, it may take up to 45 – 60 minutes.

---
Background – Gulberg Residencia Islamabad
---
To make it clearer, there is a difference between Gulberg Greens and Gulberg Residencia Islamabad. The first entrance part of the Gulberg society is the Gulberg Greens, where you see the main commercial boulevard with lots of development.

Behind the main commercial boulevard there are different sectors, A, B, C, D, E …, as you keep moving on forward on the main boulevard.

These sectors have big plot sizes ranging from 2 Kanals to 10 Kanals each. It was primarily planned to have the farmhouses' concept with openness and spacious colony.

After you move forward about 2-3 kilometres on the main commercial Gulberg boulevard, the Gulberg Greens gets converted into Gulberg Residencia. In this part, you can find smaller plot sizes of 5 Marla, 8 Marla, 10 Marla and 1 Kanal each. It also has apartment buildings and its own commercial areas.

IBECHS
---
Gulberg Residencia Islamabad and Gulberg Greens originally started as an Intelligence Bureau Employees Housing Society (IBECHS). It later entered some kind business collaboration with other third party and was rebranded as Gulberg Greens and Gulberg Residencia Islamabad.
---
The Planned Housing Society
---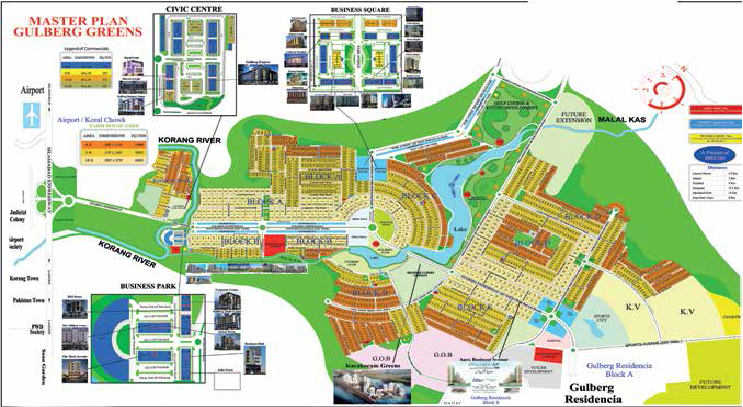 The Gulberg Greens and Gulberg Residencia Islamabad is fully planned housing society with all the clearances, NOCs, and approvals. It has been developed on the high standards equivalent of Bahria Town.

It has wide main boulevards, underground wiring, overhead water tanks with all communications facilities.

It has sectors ranging from A to Q. Some sectors have been fully developed and people have built their houses. Some sectors are still under development and possession is not available yet.

---
Retail Brands in Gulberg Residencia
---
The commercial areas in Gulberg Housing have also developed swiftly. Many leading brands have started entering the Gulberg Greens and Residencia just like in Bahria Town.

Leading retail brands have immediately started to show keen interest to enter Gulberg Greens and Residencia.

Imtiaz Super Mart is already established just before he entrance of the Gulberg Greens and also visible from the main Islamabad Expressway. McDonald's, Subway Pizza Hut have also established at the entrance of the Gulberg Greens.
In addition, Second Cup coffee and many other retail brands have entered on the main commercial Gulberg boulevard.
Gulberg Greens and Gulberg Residencia Islamabad is expected to attract many more brands soon.

---
Location Advantage
---
Just as an analogy, there are three Bahria Town near Islamabad. The first flagship is the Bahria Town Rawalpindi. the other one is the Bahria Enclave Islamabad, and third one is the Bahria Golf City on Murree Expressway.

Interesting, all 3 are in three different extreme directions. Though these have been developed spectacularly, but you have to travel long through various turns and twists to reach the Bahria Town properties.

Interestingly, Gulberg Greens and Gulberg Residencia Islamabad has no such issues. It has the direct access from the main Islamabad Expressway from all the directions.
It has no road congestion and route twists' issues.
Gulberg Greens and Residencia are ideally located between the main Islamabad and the Rawalpindi. The old Islamabad Airport Road is closeby which connects with the Rawalpindi.

You can reach any part of Islamabad within 30 minutes and similarly in Rawalpindi in 30 minutes. That makes Gulberg Residencia one of the ideal housing societies in Islamabad.

---
Pricing
---
The price ranges are diverse…

For the fully developed sectors, the price ranges from PKR 25 M to 35 M for 1 Kanal plot.
For non-developed sectors, it may range from PKR 10 M to PKR 20 M
Similarly, with some proportionate 60% down, you can get the 10 Marla or 5 Marla prices.
---
Conclusion
---
The Gulberg Greens and Gulberg Residencia Islamabad are now like hot cakes.
Though Real estate has its boom and busts, but the fundamentals of the Gulberg Islamabad are very strong due to its already laid down infrastructure, its master planning, and its developed sectors as well as its prime location.

Though it has increased in pricing manifold from time it was launched or even a few years earlier, but I guess those who may be interested can still consider investing in the non-developed sectors which may have a very good future potential for price escalation as soon as they get developed. But this investment outlook may be for about 5 years to expect some good return.
The bottom line is that irrespective of the market forces, the Gulberg Greens and Gulberg Residencia Islamabad Housing Society is considered safe to invest, since there are no regulatory problems and issues for the society.
As the population starts increasing, the prices will further escalate in the future.

For more you may also check out Gulberg Greens & Gulberg Residencia Islamabad website.
https://www.skymarketing.com.pk/islamabad/gulberg-greens/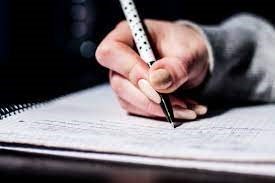 Staff Writer One
IdeasBeat provides you with a variety of articles related to complete living from all around the world. We hunt for good stories, informational articles, and various resources to help you stay well informed, enlightened and entertained.

You can contact us here