MidCity Housing Lahore
---
The Modern & Aesthetically High Standard Housing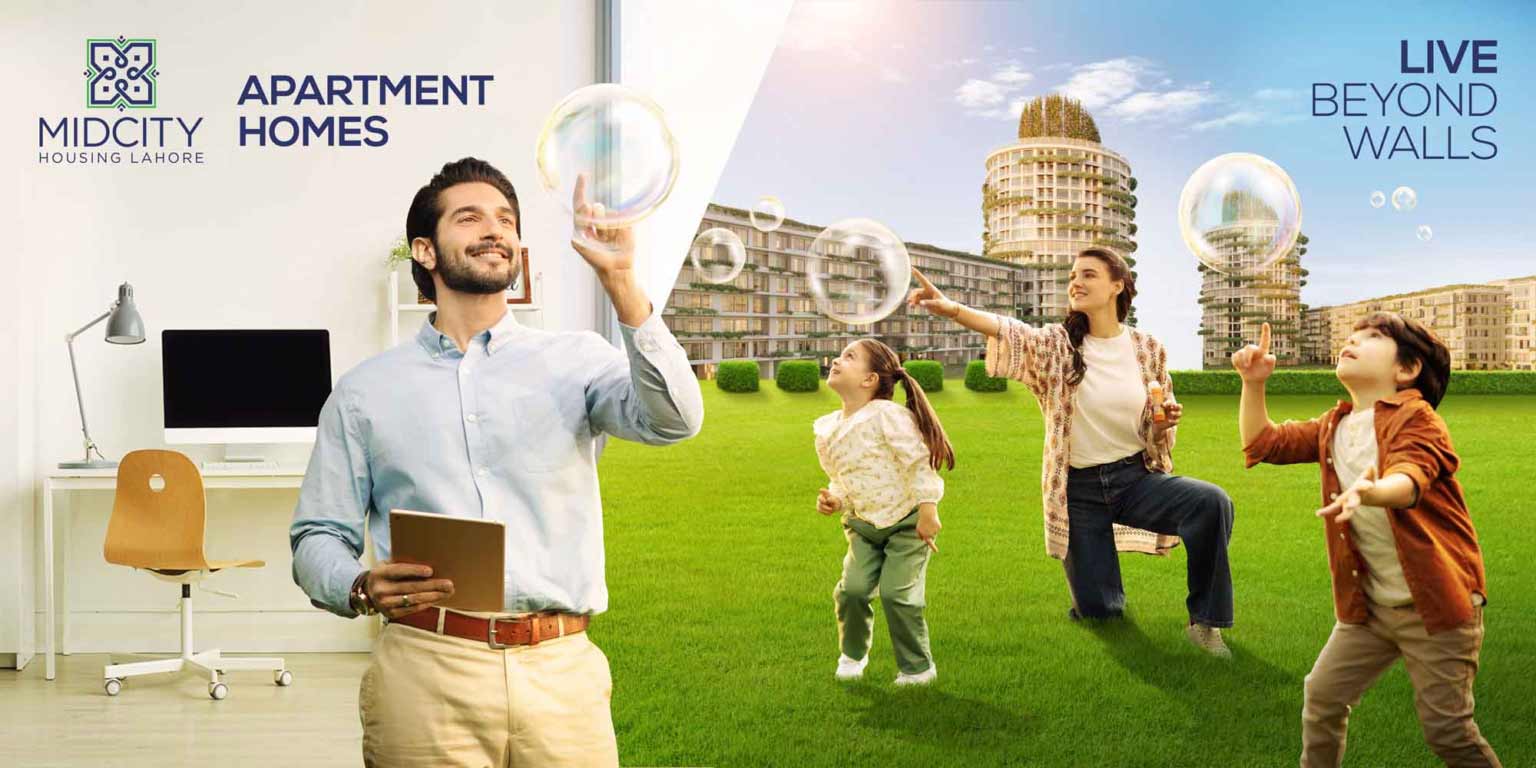 ---
About MidCity Housing Lahore
---
Midcity Housing Lahore is an ambitious housing project in Lahore that hit the market in early 2022. It is located in the southern Lahore near Bahria Town Lahore.
The project is owned by Sheliz Aplam Developers. It is an alliance of two emerging companies i.e. Sheliz Wardag private limited and Aplam Developments.
Both companies primarily and independently belonged to real estate sector, now they both have merged with greater energies and resources to launch one of the most ambitious projects of their lifetime i.e. MidCity Housing Lahore.
---
Approvals Already In Place!
---
It is interesting to note that MidCity Housing Lahore did not make any haste to launch prematurely in the market. They wanted to do things right.
They actually started their project in 2018 but they first wanted to get all the required approvals from all the regulatory authorities and organizations which have been done as of Feb, 2022
Jan 2019 – Formal Application was submitted for developing a housing scheme.
April 2019 – Irrigation Department NOC obtained
July 2019 – WASA NOC was obtained
July 2019 – Revenue Department NOC was obtained
Jan 2020 – Planning Permissions NOC was obtained
May 2020 – Highways Department NOC was obtained
June 2020 – Railway Clearance NOC was obtained
Oct 2020 – Technical Approval was obtained
Oct 2020 – TEPA Approval was obtained
Nov 2020 –LDA Approval for sales and marketing was obtained
Feb 2022 – Final approval from LDA was obtained
---
Salient Features of MidCity Housing Lahore
---
Broadly, there are three categories in MidCity Housing Lahore.
Residential District
Apartment District
Business District
It is pertinent to note that the MidCity Housing Lahore project is basically a high end luxury project. It provides all the following features and facilities:
Picturesque central park
Luxury communal living
Lush green lawns and open spaces
Children play areas
Pedestrian pathways
Cycling Tracks
Mom's gossip corners
Club house equipped with dining and boarding rooms
Fitness & Wellness center
All sports facilities
Amphitheater
Reading and gossip lounges
Meet & greet spaces
Sector markets
Necessity shops
Spacious and elegant central mosque
Purpose built Schools
Banquet halls facility
Smart Housing Management system with a Mobile App
Firefighting System
Backup Electricity
Emergency Medical Services / Ambulance
Rescue Management
Wireless Internet Connectivity
FTH (Internet, Telephony, TV, CCTV)
Healthcare center 
Security & Surveillance
24 Hour CCTV
Apartment Building
Practical, spacious apartment layout plans
Surrounded by open and green spaces
Fully security controlled
Peace and tranquil surroundings
Indoor and outdoor entertainment facilities
Business District
Business district has the main commercial road of 150 feet. It connects all the commercial district from south to north.
It provides very high aesthetically designed markets and commercial places to find all your common as well as your luxury brands at one place.
It is expected to become the 'High Street of Lahore South'
---
Latest Developments
---
The development works in MidCity Housing Lahore is already underway and is in progress on a fast track, but not compromising on the quality.
The project may be expected to complete the development works in another 3 years' time from now by the end of 2025.
Though it may have some delay cushion of about 6-12 months more time. That usually is considered fine.
---
Pricing – MidCity Housing Lahore
---
The project is primarily a luxury housing with all the possible high end facilities. Although, it has a bit higher pricing.
MidCity Housing Lahore Prices are: as below
1 Kanal Residential Plot
Sales Price: PKR 25,000,000 (2.5 Crores)
Registration Fee: PKR 10,000
Down Payment: PKR 12,500,000 (1.25 Crore)
2 Quarterly instalments: PKR 6,250,000 (62.5 Lacs)
(Development charges are included in the above prices)
10 Marla Residential Plot
Sales Price: PKR 14,000,000 (1.4 Crore)
Registration Fee: PKR 10,000
Down Payment: PKR 5,000,0000 (50 Lacs)
Ballot Payment: PKR: 1,500,000
4 Quarterly instalments: PKR 1,500,000
On Possession: PKR 1,500,000
(Development charges are included in the price)
5 Marla Residential Plot
Sales Price: PKR 7,500,000
Registration Fee: PKR 10,000
Down Payment: PKR 2,700,000
Ballot Payment: PKR 800,000
4 Quarterly instalments: PKR 800,000
On Possession: PKR 800.000
(Development charges are included)
---
Conclusion
---
The MidCity Housing Lahore is an upcoming real estate project. The company behind the project is young but has big ambitious plans.
Secondly, they have very good creative aesthetics to have designed the master plan of this project.
The location of the project is also good, since it is nearer to Bahria Town Lahore and can be easily accessible through the Ring Road Lahore.
The MidCity Housing Lahore project's marketing plan is very well designed, The TVC (TV Commercial) is one of the best. They have signed the MoU with Bilal Ashraf, one of the leading Pakistan actors to become brand ambassador for the MidCity Housing project.
Although marketing in real estate is just one of the small pieces in the whole game. In real estate what matters most is the project's completion as per the plan, and its delivery on time. These are the main ingredients for the success of any real estate project.
It you sell high end product and make tall claims, and are unable to deliver on the promises, this can be a most disastrous and failure recipe for the whole project.
In real estate sector, due diligence plays a very important role.
In this MidCity Housing Lahore project, the management is at least very transparent in providing the complete milestones of what has been achieved and approved as of now. It is also one of the rarest things, which I have not come across so far on any other website.
In addition, it is also to be noted, that they are not very transparent about the complete project size in terms of their land acquisition and development. Anyways, in may be due to overlooking of the details to have missed out, or else they have not at least mentioned it on their website.
Overall, the fundamentals look good for MidCity Housing Lahore. Especially the legal side of things, and marketing side of the things.
They are not very salesy and hypey, and they are sticking to good quality standards in their advertising and marketing collaterals.
The target audience for MidCity Housing Lahore project definitely will be medium to affluent class. 
Their launch prices are somewhat higher than the existing benchmark standards. The developed plot of 5 Marla is PKR 75 lacs which is near the current market cap in DHA Lahore and Gulberg Lahore.
There may seem to be pricing challenge in the MidCity Housing Lahore project to slow down their sales. But if marketing and the actual development is done well, it may take off in the future.
With all the goods and not-so-bads, the MidCity housing project appears appealing especially for those who can afford it.
For more information, you may also visit MidCity Housing Lahore
You can also visit the Developer's Sheliz Aplam website

If you are interested to inquire more about it, you can fill up the form below.