Solo Build It (SBI)
---
All About Solo Build It
In short words, Solo Build It (SBI) is an online website creation software. But it is not limited to only creating websites.
It is a complete online business building platform that can help you get more online visitors and get more sales.
For an easy reference for those who know a little bit about how to create websites, they may also know about WordPress which helps to create company or individual websites. 
The truth of the matter is that I have been testing and trying online web business building platforms for the last 15 years. I have extensively used WordPress to build my own websites as well for some clients. But I will now give you my final take on it. 
After having experienced plenty of online web building platforms, I have moved back to Solo Build It (SBI) for good. Why? I will explain in detail shortly. The short answer is that now I believe in the concept of 'Less is More'.
What is Solo Build It (SBI)

---
Solo Build It (SBI) is specifically designed for small and micro businesses as well as home based businesses.
Whether you are a single person business or just a few people in your team, Solo Build It may prove to be your ideal companion. 

And if you hate the technical stuff and the online software glitches, virus, hacking and malware and slow website loading speed, and much more, then you need a solution, which does not suck you in something which you are not expert at. 
You need to just focus on your business building whether you are providing food catering services, event management services, hotel and motel management, car repair services, dress designing services, furniture making services, and much more, you only need to focus on what you are doing to increase your clients and sales. 
You don't want to get into the technical side of the online world wasting your time and money on things which you will remain dependent upon. Certainly such a scenario does not help much for people who just believe in doing it yourself (DIY) approach.
If you relate to such a scenario of depending upon others or technical people to build or maintain your site and you don't like it, then it will benefit you to read here in detail what is in store for you. 
Let me admit that I am a hard core fan of Solo Build it (SBI) and I am a proud affiliate of the product and company and I want to promote it to all the small and micro businesses of the world who can benefit from it. I have learned it through hard knocks with errors and trials. 
I have seen my WordPress sites getting hacked and redirected to some malware advertising sites. I have struggled to increase my WordPress sites' speed with frustrations. I have extensively used free and paid WordPress plugins which have provided me a lot of headache knowing that many plugins were not compatible with each other. It was not only a mental frustration; it was also a complete waste of my hard earned money as well.
Why You Should Build Your Website

---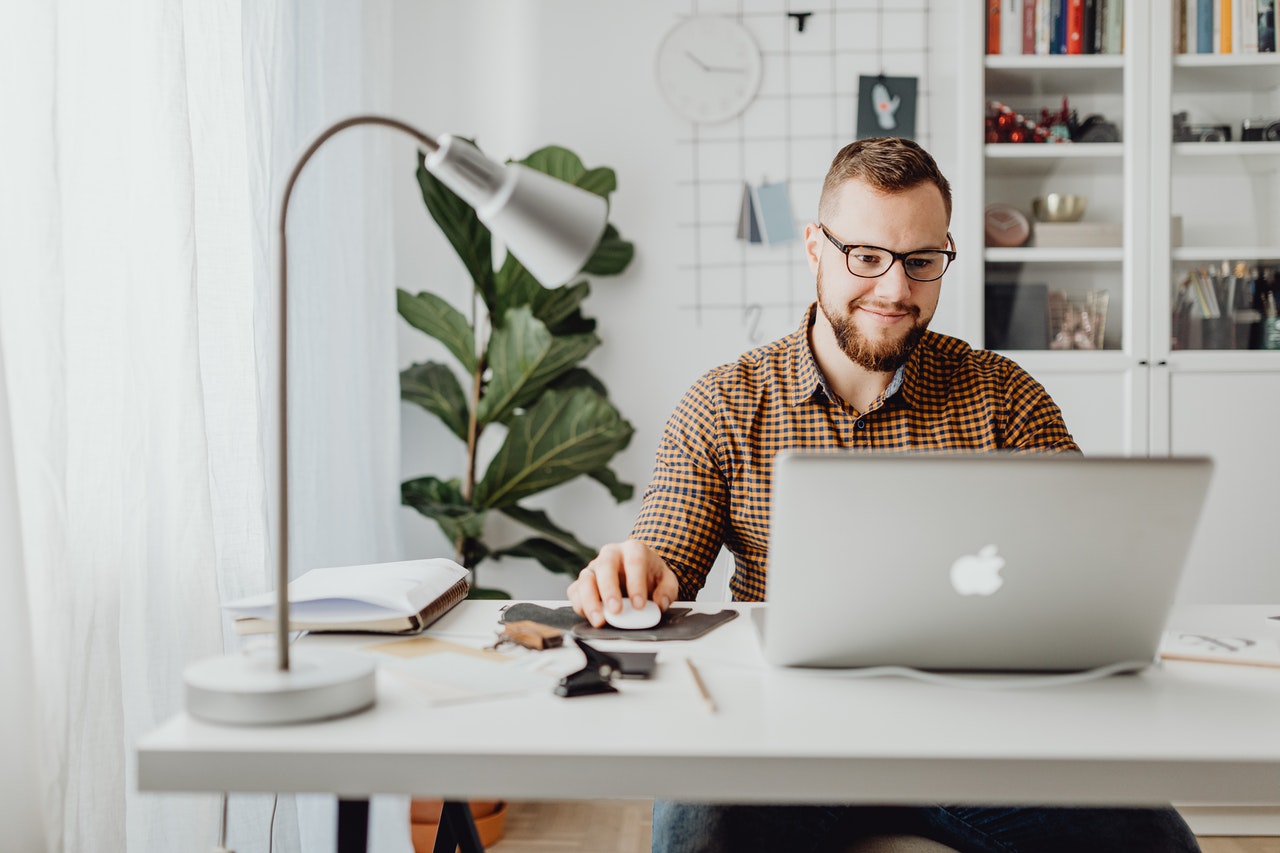 It is important to understand in the first place, why you want to build your website. Broadly, there can only be three objectives:

1 - The Government or any Regularity Authority directs you to have a company website.
2 - You need your website address (www.mywebsite.com) for your business cards and brochures.
3 - You need to develop a new online marketing channel to bring in more visitors and clients.
If you are looking for the first two, then it may not matter much where and how you build your website Whether your web designer friend builds it for free or you do it yourself online or you build it on WordPress. Any route is good. It will just not matter much.
But if you are looking for the third objective to develop your online marketing channel to expand your business, then it will matter, where and how you build your website.
Website should be planned with a customer in mind. What questions, queries, needs and wants are in their minds and what they are trying to find on the web. Moreover, the website content and navigation has to be planned in a user-friendly manner, so that he or she will not find any difficulty to find easily what they are looking for. 
You can read a very important and interesting book: 'Don't Make Me Think' by Steve Krug. This is an excellent book in which the author describes the importance of simplicity instead of complexity. Simple, easy and meaningful websites are loved by customers and Google.
This is the area where Solo Build It (SBI) thrives with hundreds of online business success stories, which you may not find anywhere else.
Understanding Your Business Better

---
Let's understand what your business really needs ….

Suppose if you provide printing services, and you take a help of a web designer to create a beautiful flashy website about what you do and offer. And you really like its design colors and navigation and after having done the required editing and changes, you have paid the web designer.
And now you could proudly write the address of your new live website (www.mywebsite.com) on your business cards and brochure.
But the big question is that once your website is live on the web, have you started getting more visitors and clients? Probably not.
Do you rank well in Google when someone wants to find the 'printing services' in their area whether New Jersey, Dubai, Singapore or Africa? I guess not.
Solo Build It (SBI) is different. It is not limited to creating just a beautiful website. It is a business building platform with in-built training modules to hold your hand and guide you to do things in a systematic way that works to your benefit. 
First you need to know what people, your prospects and customers are looking for on the web relating to your offered services.
If someone types in Google search, 'business card printing', 'brochure printing', 'book printing', etc., do people see your site in the Google results. Or you are still invisible on the web? That means your business is also invisible on the web. And no one can reach you automatically on their own. You will only be limited to whom you will tell (your friends and relatives). So in a way, you will be working offline mostly. In other words, it is equally good if you remain without a website.
Although the above is just a simple example, the root of the matter is that doing business online is entirely different than doing business offline. You just cannot expect the same results from the online what you have been getting from offline (or not getting). 
You need to understand that your store may be local and only limited people in your area may know about it and may avail the services. But your website is global. Any person sitting in any city of the world can know about your business and can avail your services.
Managing an online business would require a mental paradigm shift and acquiring some enhanced skills. Unless you are not willing to do that, it is better that you don't build your website. Because it will not provide you the desired results which secretly you may be expecting.
Therefore, first work on yourself to understand the dynamics of the online world. When you totally get it right and work it the way it is required to be done, only then you can really experience the power of the online world. It can simply push you off-feet with the mind blowing results.
Don't just get into something half-heartedly. Online world is the present and the future. Once you learn it to use it effectively for your business, then there will be no stopping.
Inside Journey Around Solo Build It (SBI)

---
Now let's understand some features, functions and benefits of Solo Build It (SBI). I will provide some of the main features and functionality where Solo Build It excels and shines. But these are not the only ones. Although I am providing you with the only main core functions, but there is much more than that.

Rest assured, there is nothing in Solo Build It (SBI) which is rocket science. Everything in the dashboard is self-explanatory even better than what I am trying to explain here. 
Solo Build It (SBI) Brainstormer

---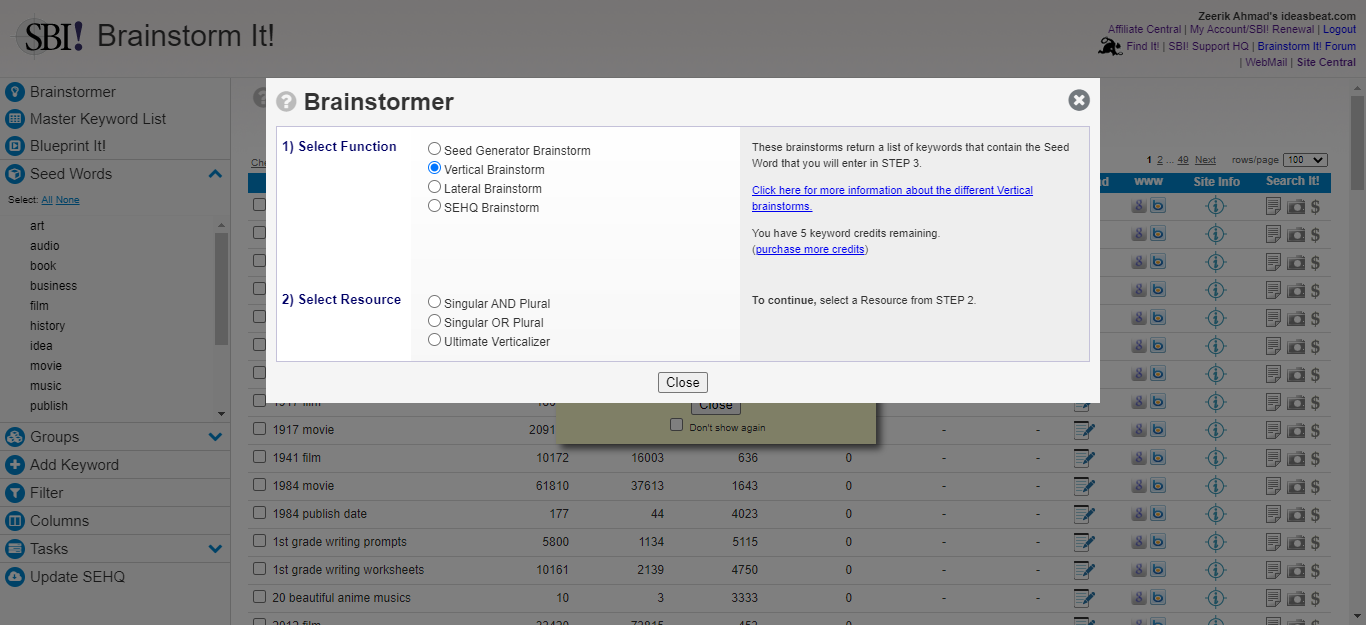 SBI Brainstormer is an online software that helps to find what people are looking for in the Google search regarding your business (e.g. printing services, etc.).
You will get those words and phrases (keywords) which people type in the Google like 'business card printing services in Chicago', 'best business card designs', etc. etc.

You will not only get those words and phrases which people type in the search, but the SBI Brainstormer will also provide you estimated demand and supply for that word or phrase on the web. This number will tell you whether in the web any specific service for that keyword exists or not. And how many websites are offering the same services on the internet as yours. And additionally, you will also get to know the profitability of that phrase, whether it is worthwhile to develop a good web page on your website so that whenever people will search for that service, your page will appear in the Google results and when they will see you, they will click on it and you will get the business query. That means you have started getting the leads and clients.
The SBI Brainstormer has a good capacity of 25 times of brainstorming for your business related keywords. And you can get 5000 keywords in your Brainstormer library which people are looking for in search engines (Google) for your business. No other web building platform, that I know of, can provide you with that power. This is a master piece software from Solo Build It (SBI).
Solo Build It (SBI) Design Gallery

---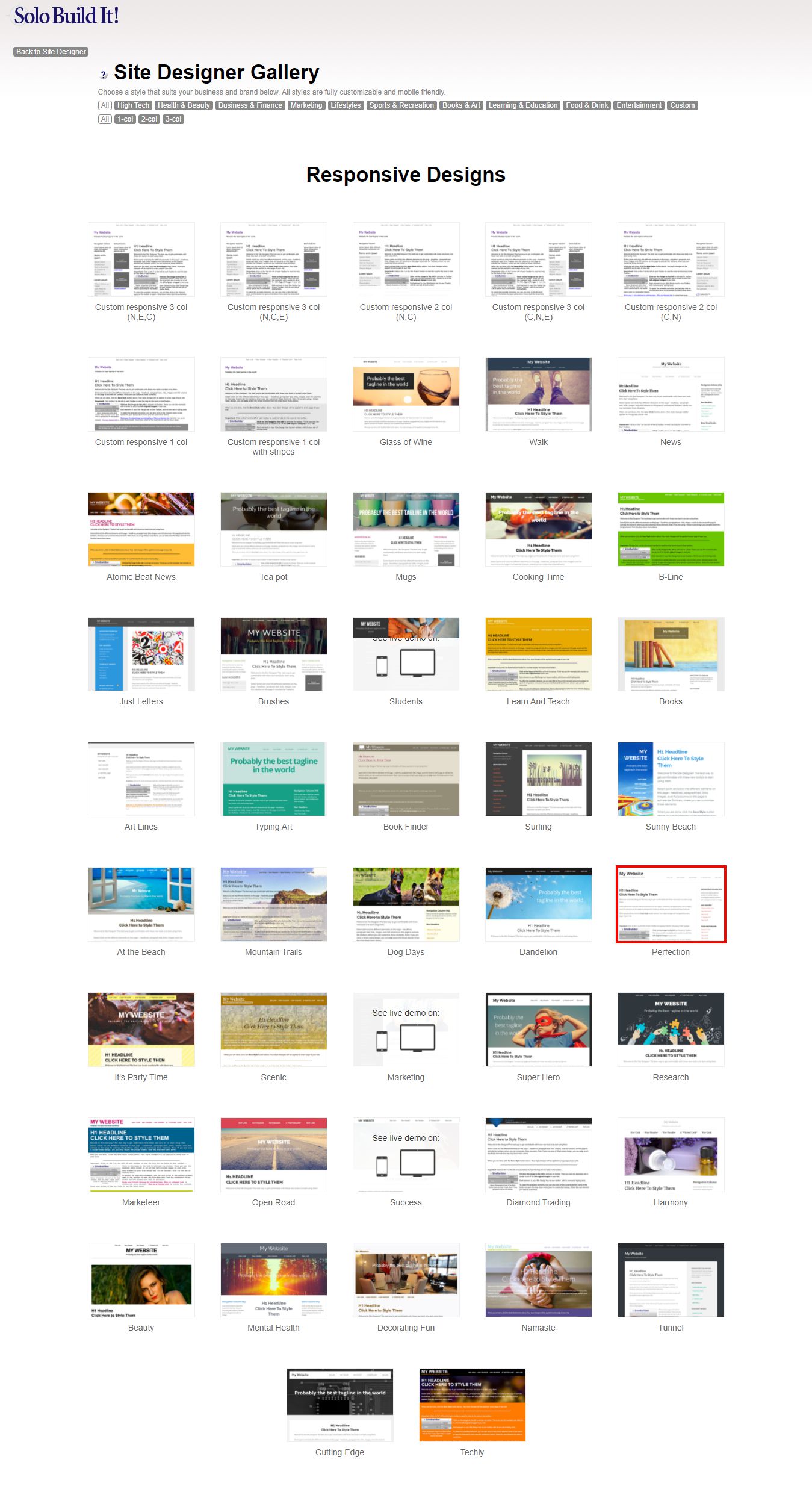 After you have found the related keywords with the help of the Brainstormer, you get confident that you need to provide the information answers about what people are trying to find on the web related to your business. That is the confident start to building your website.

First, you have to select a pleasing and practical web design template. Solo Build It (SBI) provides you with a variety of design templates which you can select and use it as per the theme of your web business. Most of the design templates are mobile responsive templates. It offers single column, two columns and three columns templates with variety of headers and footers.
Within the Design Gallery, you can easily customize the colors, fonts, headlines, headers and footers as per your own design tastes or as per your business requirements. You can upload your business logo and background images if you like.
Solo Build It (SBI) Page Builder

---
After having selected and edited your master design template, you have to move on to build a web page with Solo Build It (SBI).

Have you ever tried to play Lego sometimes in your life, or simply you may know it how it works. Simply piece by piece you keep building huge structures. And interestingly, children can do it easily.
That is exactly what SBI page builder is about. It is one of the simplest ways to develop your web page.
Web page basically comprises two things. Text and multimedia (images/videos/slideshows).
If you are familiar with MS Word or about how to write an email, then writing a web page is just like that which you can do it with ease.
However, it is better to plan it in advance about writing your content in MS Word first, and selecting a few related photos and/or video from the online stock galleries. That is all.
Once you complete that, you just have to copy and paste it into the SBI web page builder. SBI Page Builder has drag and drop functionality which aids you to insert text, headlines, images, videos, containers, forms or anything which you may want on your web page. It is really fun to create web pages with the help of SBI Page Builder.
Solo Build It (SBI) Page Analysis (SEO)

---
As a matter of fact, Solo Build it (SBI) does not leave you alone after having completed your web page with its builder.
It also has an inbuilt tool of page analysis. Once you have put your content text and images in the page builder, you can click 'Analyze It', and it will provide you the complete analysis of your page especially from the search engine (Google's perspective) how it sees it. 

The page analysis includes various checks i.e. the file name, usage of the main keyword in the headlines, description, the body text, images, links analysis, and number of words on the page.
'Analyze It' will highlight some of the mistakes and errors which you may have done, and it will also tell you what and how to fix it.
Once you see the 'Analyze' recommendations, and rectify it, you are good to go. You can check your web page multiple times to see where you are now. When it is all okay, you will see that the 'Analyze' will provide you the 'Good' status in all sections, then you can easily click the' Build' button to put the page live on the web.
Search Engines' Submission By SBI

---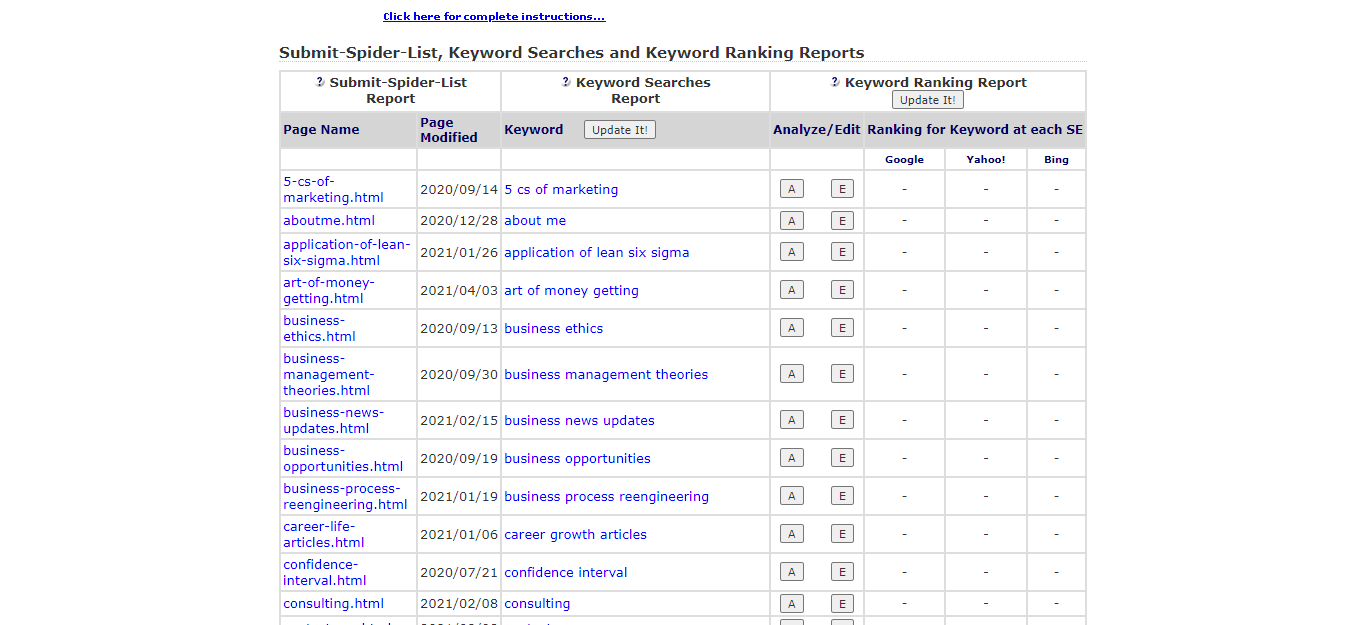 After you have published your page, your job is ideally finished. Solo Build It will now do some more work in the background for you. It will submit your page to the Google and all other leading search engines, and will keep a track of it about when they are indexing and when and what rank it will attain in the search engine results. This function is unique in Solo Build It (SBI), and you may not find it anywhere else.

Related Pages (Blog Style)

---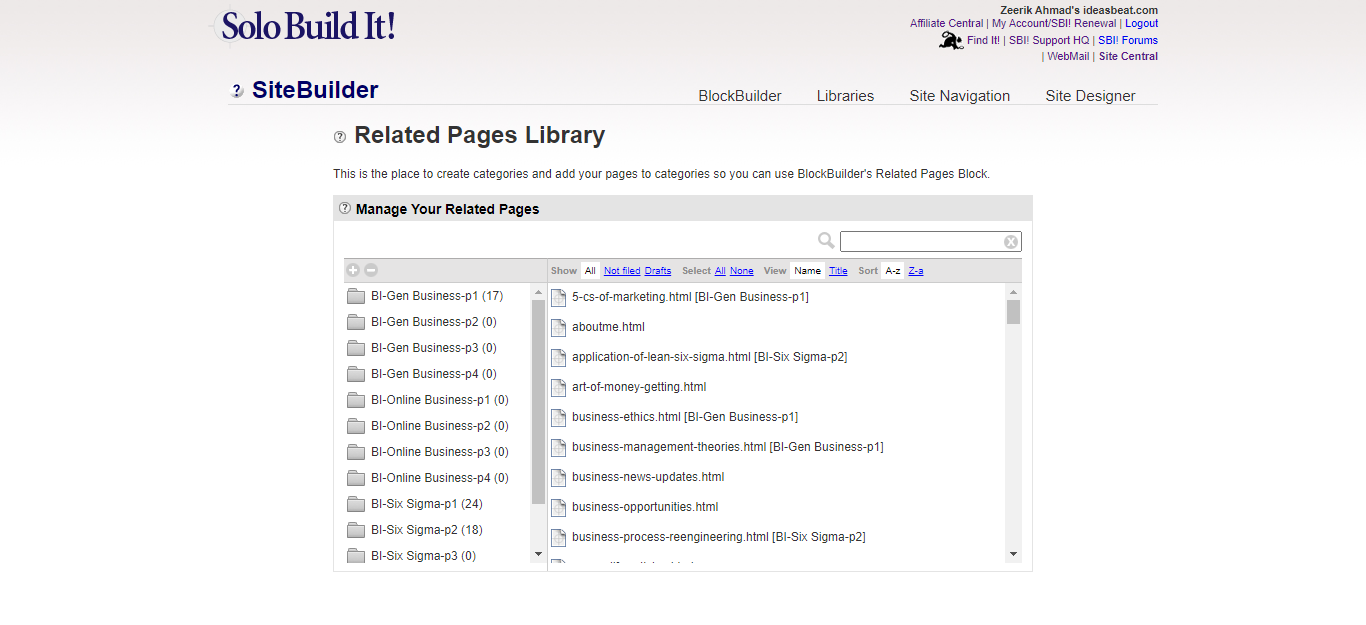 There is another feature within the SBI functionality. You can create page categories, and you can put different related articles or pages in that category. Once you do that, you can easily use your drag and drop web page builder to put any related pages' category on any page. 

This is very helpful for those who like to write multiple articles or blogs and want to neatly categorize it.
The related pages will automatically bring in the content snippet in 2 or 3 lines and will also bring in the image thumbnails. All the related pages will be displayed on your page once you drop it at any place.
Solo Build It (SBI) Web Forms

---
When you are doing business online, your customers need to send queries to you. How that will be done? You need web forms with some customization. Solo Build It (SBI) provides you this function in-built with its platform. Many other web building platforms do not provide it. And you have to buy it separately. With the help of the in-built forms module, you can create many forms like 'contact us' form, 'business inquiry' form, 'product order' forms and just about anything else. Even if you want to conduct any customer surveys and feedback, you can also create customized forms.

Once customers fill up the forms, you will get the data in a table within the platform and you can also get it in your email.  No other system provides you this in-built functionality.
Solo Build It (SBI) Site Navigation Links Management

---
When you build your site and pages, you are automatically building its hyperlinks. Every web designing platform provides you the ease of managing those links the way you like it. Similarly, with SBI, you can customize your header links and footer links the way you want it. But again, in SBI the Navigation management module is super easy and super friendly. It has its own preview before you finally lock it. Of course you can modify whenever you want it.

SBI Email Communications Management

---
No business can be complete without the business email communications system. Solo Build It (SBI) provides you with in-built functionality to create hundreds of email accounts for yourself and your staff (if you have any). Other web building platforms also provide you the email services, but there is a difference. 

On other platforms you get separate email accounts with separate passwords and separate database. However, in Solo Build It, you have the option of having all email accounts at one place for admin, support, marketing, orders etc. It is much simpler online email management and easy to manage with one password, especially if you are small or micro business.
Solo Build It (SBI) Newsletter Management

---
Furthermore, Solo Build It (SBI) also provides you with the e-Newsletter service, which normally is paid service at many other places. Solo Build It (SBI) provides you with a monthly quota of about 5000 emails and it keeps on getting rolled over.

Solo Build It (SBI) as per their policy is very strict on spam. You should ethically use their services to send emails and newsletters only to those people who truly have subscribed to your newsletter and want it. 
Don't send it to the people who you don't know and they don't know you much. First develop a relationship with them in one way or the other and then use the email medium effectively.
Traffic Analytics in Solo Build It (SBI)

---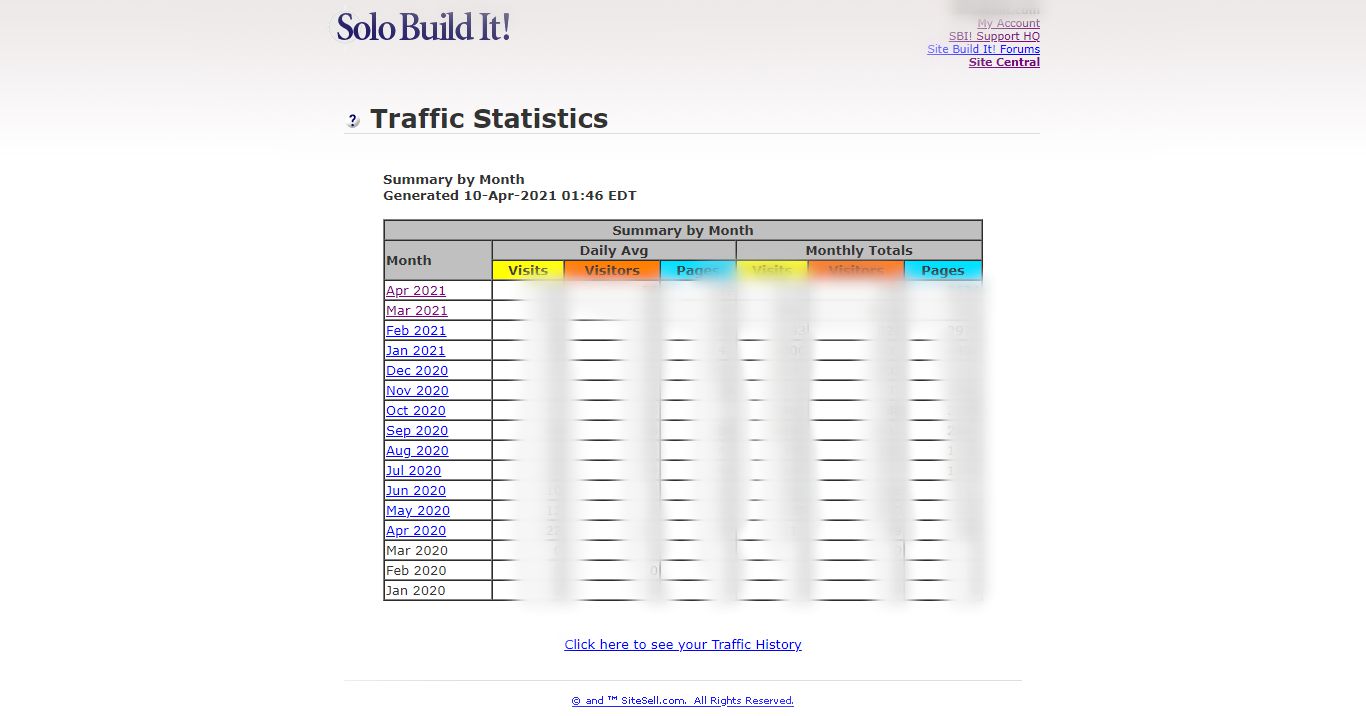 In addition to the basic functionality of building web pages, SBI provides you with rich traffic analysis reports. It will provide you with daily, weekly and monthly traffic details in an easy to understand manner. How many people are visiting your site and from which countries and who are the ones referring to your site and what search phrases they are entering in the Google to get to your site, you will get everything at one place.

In addition, you can also get the keyword ranking reports which show you how your pages are performing in the Google search enabling you to know that whether your prospects and customers are able to reach your site or not.
Solo Build It (SBI) Training Modules

---
For any business, whether offline or online, what matters most is the 'knowledge edge' that may help you to stay competitive. Solo Build It (SBI) provides you with very comprehensive learning modules that empowers you with a cutting edge knowledge and explained in a simple and easy to understand manner. It is continuously updated and delivered in your Solo Build It dashboard. 

The small business owners who just put up their websites and do not care much how they perform, you will be much better now to compete with others and take more customers and clients with this training advantage.
Solo Build It (SBI) core training is divided into 10 parts or what they call 10 days Action Plan. It is upto you whether to complete their 10-day Action Plan in one day or in 30 days. You can go with your own pace. But the idea behind is that once you fully read the 10 days Action Plan, you will be empowered with loads of knowledge and cutting edge which is hardly comparable with any other platform.
From Idea brainstorming to domain registration to building your pages, to promoting your pages and finally earning from your pages, everything is included.
It provides its famous CTPM process i.e. Content > Traffic > Pre-sell > Monetize. 
In totality, there is not much left which is not available in Solo Build It (SBI) to grow your business. Everything is at one place in one dashboard. 
SBI Resources

---
In the SBI dashboard, you will also find the link to SBI recommended resources. It is a good shortlisted third party recommendations, which can help your online business to grow more. This is all optional. If you would ever want to get to the higher level, you can browse through this resources center.

SBI Monetization

---
There is a separate section in the SBI dashboard as Monetization Headquarters. This section provides you a comprehensive learning modules/articles about how to monetize and earn from your site. The learning resources include the ways how to market the affiliate products and earn good commissions, how to develop your own digital products, and even how to use the Google Adsense advertising on your site. 

This is a massive resource to help you how to stay afloat in your online business. You should use it to your best advantage. You will not find it with any other web building platform. These are some of the value added services provided by Solo Build It (SBI).
Giant Page Manager (GPM) by Solo Build It

---
With all the features and functionality at one place in SBI, there are some common features like managing all the web pages at one place.
Recently, SBI has introduced Giant Page Manager (GPM) which is a highly user friendly tool and provides you with easy library of all your webpages at one place, whether you have 10 pages or 1000 pages. You will also get to know the number of words on each page, the number images or any video and many other customized status columns. This is actually super helpful.

You can search your pages and make the required changes form the Giant Page Manager either in the page descriptions, title or can edit and modify it completely.
The Flip Side of Solo Build It (SBI)

---
Let me share some flip side of Solo Build It. If you may wonder that I am talking too much only in favor of SBI. (well the truth is, since I am a raving fan of Solo Build It, so I may be unconsciously overly inclined to it, pardon my bias…). Anyways, Iet me struggle to give you the other side as well.

If you are looking for the advance features and functionality in Solo Build It, then there is none with SBI.
Solo Build It (SBI) only provides you less, so that you can focus on the core business.
If you are looking for some animated slide shows, there is none.
If you are looking for accordion and tabs – there is none.
If you are looking for hotel booking engine – there is none.
If you are looking for some site search functionality– there is none.
If you are looking for commenting system – there is none (you only get Facebook commenting functionality in-built)
Like many more advance features, there may not be many. In case, if you are really too much tech savvy and want advance things, you may find all these things in the WordPress sites with external plugins (paid). But will they rank well in the Google search. I doubt it.
Without all these techy bells and whistles, SBI sites rank well in Google, sure they do (if you follow their advice).
However, what to do if you really need such functions. Three choices.
1 - Either you go your own way, hire a web designer and web developer and do it with heavily paid package.
2 - Secondly, use the WordPress platform install some required plugins and get the work done, though you will still have to pay for the required external plugins.
3 - Thirdly, though you will not get the ready-made plugins and functionality in Solo Build It, but there are lots of workarounds to achieve the same objectives. If you will want to know, there is excellent help available with SBI.
Certainly, the choice is entirely yours, and yours only.
What is WordPress (in Brief)

---
Either you may have heard about it or not. In short, WordPress is one of the leading online open source platforms that helps you build personal and company websites. To start with, it is a great platform and most of the world sites are made with it. 

But the question remains. Is WordPress for everybody. The answer is No.
Can you handle it on your own? The answer is maybe or maybe not. 
WordPress is a technical platform, and requires a good learning curve to handle this platform. In addition, it is not only one platform, it is a mix of hundreds of small software plugins which are independently built by small and big companies to help you achieve the desired results. 
But on the flip side, what happens if you need help? There is no single one window help for your trouble shooting. You will have to manage the independent vendors separately. And if you go wrong in something, you will bear it in terms of data loss, glitches and loss of customers and revenues.
The WordPress installation is usually offered by the web hosting companies free of charge. You will have to first buy the web hosting package from them, and in their dashboard you will find the options to install it for your website. Once you install it, you will see the left bar with all the main folders or functions to build your pages or posts, user management, admin control, commenting, navigation, and much more you can easily add more functionality through open source or paid plugins as per your own business requirements including detailed booking engines, directories, ecommerce and more.
So, in one way it has all the refined functionality available at your fingertips, but it is suitable only for those who are really adept at handling the untamed horses. It is generally not for the non-techies.
In case if you are interested to buy the web hosting to build your website on WordPress, my recommendations are two leading web hosting companies. BlueHost and Inmotion Hosting.
WordPress vs Solo Build It (SBI)

---
If you are a medium to big sized company and you have IT department under you or at the minimum some additional technical help with you, then by all means go for the WordPress.
With WordPress sky is the limit. Perhaps you can do whatever you wish for, but you should be mentally prepared to invest in it with your money, blood and sweat. You can't do it alone. Either become a tech savvy or have someone beside you to do it for you.

In case, if you are small business or micro business or a singly or doubly owned home business, the Solo Build It (SBI) may prove to be your right choice.
Solo Build It (SBI) is for non-tech people, who may not be comfortable with the technical stuff in the first place, but you can be super good with your own ideas, passions and niches in which you want to work in.
Solo Build It (SBI) For Hobbyists & Home Based Businesses

---
Interestingly, Solo Build It (SBI) is not only for existing businesses, rather you can use the Solo Build It to build a completely new online business which will stand on its feet and will grow incrementally making you earn good monthly income. 

You can use your passions, hobbies and ideas to build a website that will provide you a steady monthly income for a long time. In fact, that is also the core spirit of the Solo Build It.
As the name says, going a solo route and building your success. Single handedly. 
SBI will even provide you with new profitable ideas and will help you shed off those ideas which are not profitable. Idea hunting is one of specialized areas in SBI with the help of the Brainstormer tool as briefed earlier. 
Most of the small businesses fail in the first year and they pack up and leave. Frankly, I have experienced it myself in the past. I have also learned the hard way, about how important it is to find the right start.
And it all starts with the right idea which you are truly passionate about and which is truly practical for you to continue. You have to understand that building a website may be one-time project but maintaining and continuously growing a website is a life long journey. 
When you will read the training chapter on Brainstoremer, in SBI dashboard, it will aid you to select the profitable ideas or business niche which truly can bring results for you. 
There is a great brilliance in the Solo Build It (SBI) system. It is hard to find such a helpful system anywhere on the web.
Solo Build It (SBI) Pricing

---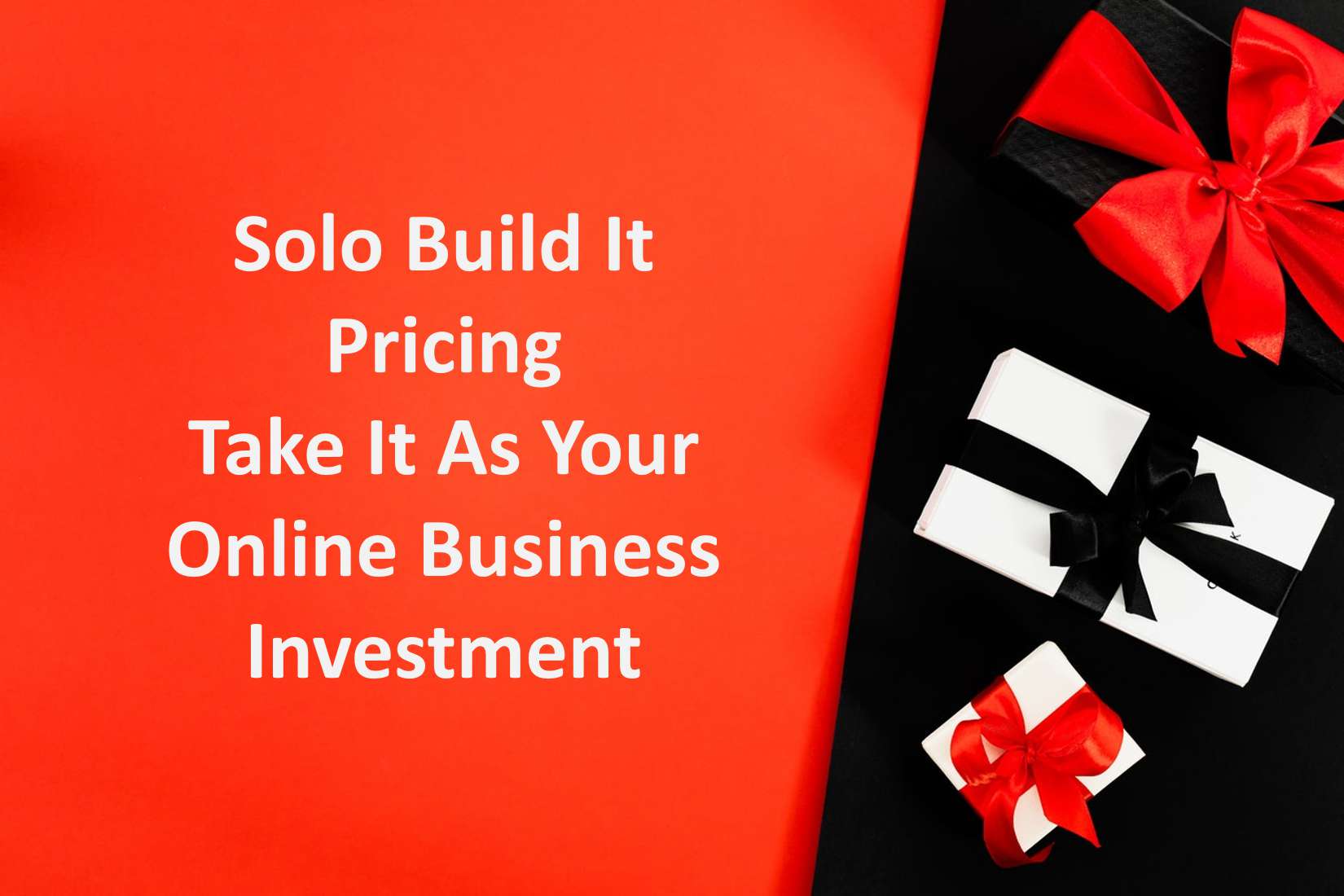 When you are building a business (offline & online), though it starts with an idea but then it also requires the money to carry it through. You may invest some or a lot in the main stream business, but if you expect to invest mothing in your online business, then probably you are thinking it wrong.

Expecting good results without spending a dime may not a practical approach. Solo Build It (SBI) has  a cost as all other web hosting and web development platforms offer. But there is a catch here. 
Other web building platforms may offer you less price upfront and you may end up paying more in the long run for the essential things which any business will need like web forms, newsletter, email marketing and many more.
Solo Build It (SBI) normally costs, USD 299/- per annum. So it is about USD 25 per month. This is a real value for money who are really serious about his or her own business success and want to see better results. 
When you do make up your mind to test drive it, you can do it anytime without any risk on your part.
Solo Build It (SBI) offers one of the most generous money back offers on the internet planet. You can test the whole system for 90 days risk-free.
If not satisfied, you will get back your full money. Such a generous offer is hard to be found on the net.
Summing Up

---
Building a website is now an essential requirement for any type pf business whether big, medium, small, or micro. There is no other opinion about it.
Generally, small and micro businesses still seem to be a bit hesitant to build their websites. The biggest underlying reason is the reluctance to handle the tech side of the things. People normally consider going to the net as a kind of an 'IT thingy'. In reality it is not, if you choose wisely. 

The important thing about building a website is that it is not a one-time project like a business brochure, which gets printed and you keep using it. Your website is like a living organism, it continuously keeps growing and enlarging and more pages are built over time. Changes are continually made from time to time. These are all the benefits of having a website. You will always be connected and updated with your customers at all the time.
Your website is just much more than a company brochure. It has to provide value in terms of the quality information to your prospects and customers. That helps to create trust and make life long connections and build great brands.
There are hundreds of ways to build a website in the present age and hundreds of platforms. The choice is entirely yours.
My final take on this subject is, if you are a small or micro business, adopt the route which you can control and easily learn without having any technical background or expertise whatsoever. 
This all can be done easily with Solo Build It (SBI) with one e-brick at a time and without worrying much about anything technical. It is a road to freedom as well as growth for your business.
In case you would like to know more how you can build you online business with Solo Build It, click here to check out their site. 
Image Credits: Some pictures are taken from pexels.com under Creative Commons license