Islamabad Jinnah Super Market F7
---
Your Next Stop in Islamabad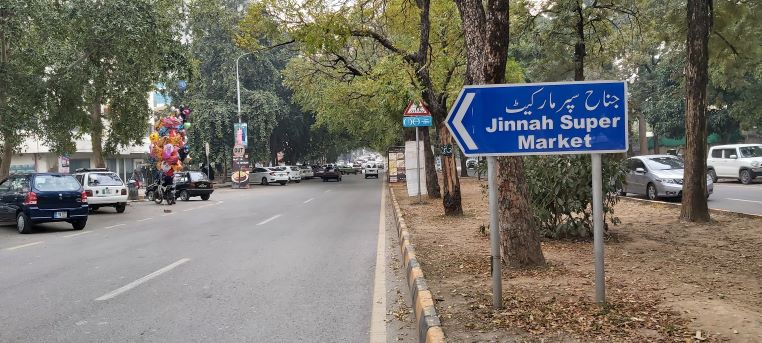 Islamabad Jinnah Super Market F7 is located in the F7 sector of Islamabad.
This is the most posh and luxurious green sector located near the Margalla foothills.

Jinnah Super Market was a later addition after the old Super Market in F6.
It's architecture is somewhat different than the other commercial markaz in Islamabad.

---
Square Shaped Islamabad Jinnah Super Market F7 Architecture
---
Islamabad Jinnah Super Market F7 provides a large square shaped commercial periphery of shops and stores. The square shaped periphery is filled with shops in the front and in the behind alleys as well.

In addition, there are adjacent small squares to add more niche commercial areas within the main Jinnah Super Market.

The area probably is the largest commercial area in Islamabad and it is quite a fun drive revolving around the Jinnah super market F7 markaz.

Islamabad Jinnah Super Market is known for the main shopping arcade in Islamabad. It offers quite a variety of brands and merchandise.

In addition, it also houses many corporate offices in close by buildings. Some new buildings have also sprung up within the greater area of Jinnah super market.

---
Safa Mall in Islamabad Jinnah Super Market F7
---
One of the known buildings in Jinnah Super Market is Safa Mall, which itself is modern 4 level shopping mall offering all the leading brands inside the mall as well as food court.
Saeed Book Bank
---
The famous Saeed Book Bank is located within the adjacent square of Jinnah Super Market.

This bookstore is the largest bookstore in Pakistan with 3 levels offering variety of books under one roof.

The bookstore is my personal favorite. I find best variety and collection of books on any conceivable topic and subject.

Jewelry & Apparel
---
You can also find a lot of variety of jewelry shops in Jinnah super main market and many garment and apparel shops for women and men.
eateries
---
On the outer periphery of Islamabad Jinnah Super Market F7, you can find many interesting eateries and restaurants.

One of the oldest and authentic unique restaurants is Kabul restaurant offering you authentic Afghani cuisine in Islamabad. It is very famous, and this authentic Afghan cuisine is hard to find in any other city of Pakistan.

People coming from other places of Pakistan also make it a point to visit and eat Afghani cuisine.

All kinds of eateries are available in Jinnah Super Market from Chinese, Desi, fast food, coffees and Afghani.
In the new additions, Asian Wok and Cheezious are really popular and pull a lot of crowd.

Nearby Park
---
There is also a park nearby the Jinnah Super Market that can also be visited especially in pleasant weather for a good walk around.
car Parking
---
Though Jinnah Super offers you plenty of places to park your car but in peak times at evenings it gets difficult to find the convenient parking.

Those who come to visit Islamabad and have good time to spare, it may be advised to park your car at one place and roam around the Islamabad Jinnah Super Market F7 on foot and walking through.

This way you can find more interesting places within the market in the inner lanes and alleys which are usually blind spots when you drive around in the car.

That would require some time of about 2-3 hours to roam around to see the full Jinnah Super Markaz.

But if you are in a hurry, and want to visit some specific store, then it may make sense to drive to the specific place.

Flower Shops
---
Another interesting feature of Islamabad Jinnah Super Market F7 is that on the opposite road of the market, you will see a long range of flower shops with a variety of flowers to choose from.

This area is also very popular for the events, weddings, and special occasions in the family.

Residents of Islamabad buy the flower bouquets from this place by placing special advance orders.

---
Merchandise Pricing
---
In terms of merchandise pricing, Jinnah Super Market is slightly on the higher side of pricing.

It is considered an upscale market with some leading brands and stores. Though inner lanes may sometimes offer you some competitive merchandise, but you may not expect super great deals.

F6 and F7 sectors are the most expensive real estate in Islamabad.
Mostly, affluent class is living within these sectors or those who are at some higher Government positions as well as foreigners who may be a part of consulate and embassy staff.

That is also some of the reasons that Jinnah Super Market commands a high-end perception commercial place to shop around.

Islamabad Jinnah Super Market F7 is also popular for small one-off shops for juices, cigarettes and pan shops.

In addition, you also find all the essential merchandise including grocery mart, pharmacies, opticians, and any other household items.

---
Certainly, a Go-To Place
---
Islamabad Jinnah Super Market F7 is fun to drive around and hang around.
Islamabad Super Market F6 and Jinnah Super Market F7 are hardly at 5-8 minutes of distance by car.

Those who have come from other places of Pakistan do make it a point to visit both markets at the same time. These two markets have always been a flagship markets from old times when you talk about Islamabad.
Islamabad Jinnah Super Market F7 indeed is a one stop commercial area for all the residents living around as well as for all the tourists who come and visit Jinnah Super Market.

You may also know about more commercial markets in Islamabad